The Rejuvenate Life App
Begin your 12 week journey to improve your health and vitality while while learning skills of  life that will bring health and well-being .
Learn the lessons to begin to rejuvenate your life again from the inside out.
Learn how to have vitality and energy while reigniting purpose and passion, without feeling fatigued physically, mentally, emotionally, or spiritually.
Reclaim your health, Rejuvenate your purpose and Live life again.
We are accepting applications for the first 10 people who want to begin their Journey to Reclaim their life.
Take advantage of this special limited offer!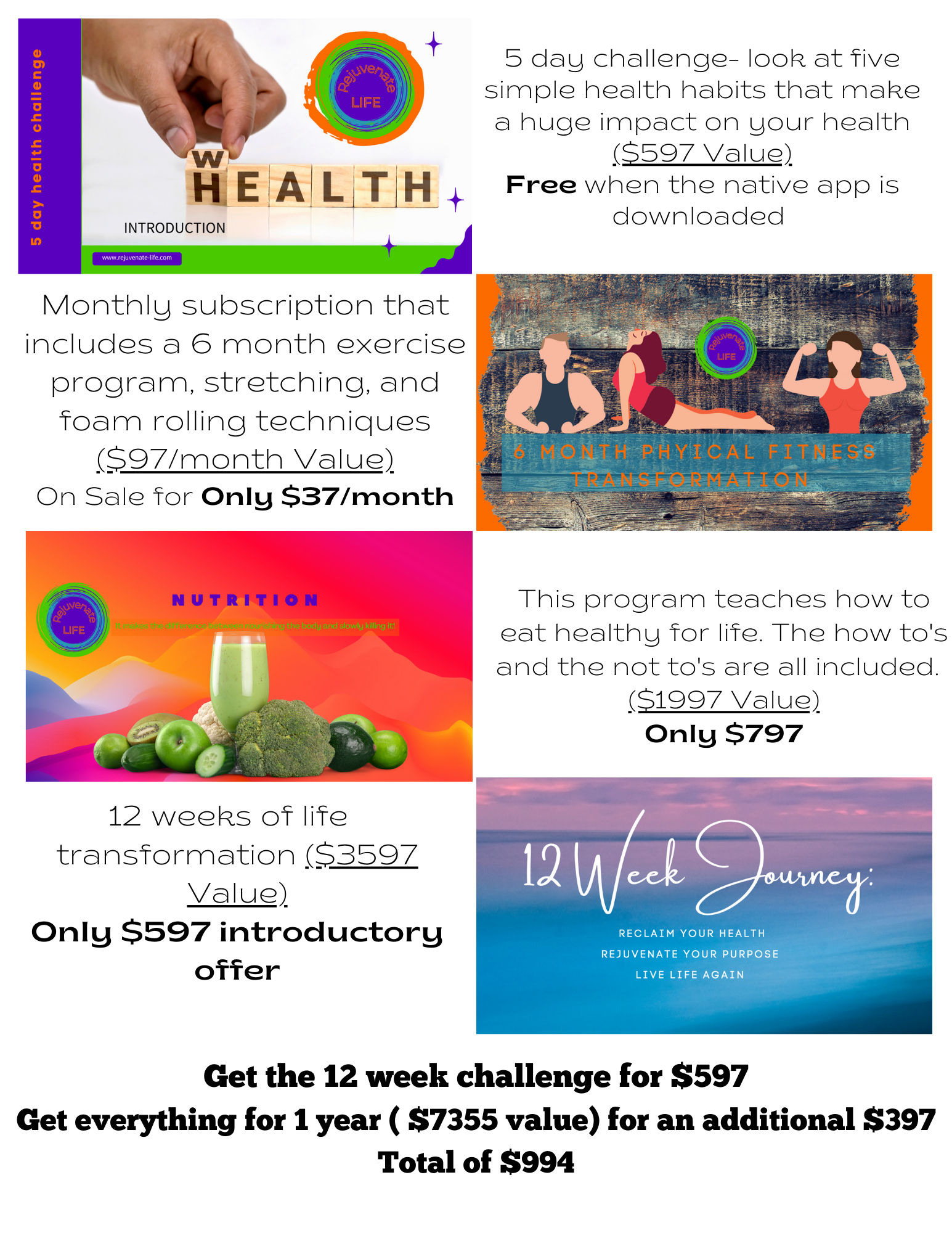 Improve your health, invest in yourself and take advantage of getting the all of these programs for more than an 85% savings.
Start with the 5 Day Challenge, a $597 value FREE just for downloading the native app.
1 year access to:
6 Month exercise program, a $1,164 value

A 6 month physical transformation exercise program including stretching and foam rolling techniques

Nutrition for Life Program, a $1997 value

Learning the difference between nourishing your body and slowly killing it

Dr. Erin's Signature '12 Week Journey', a $3,597 value

to Reclaim Your Health, Rejuvenate Your Life and Live Life Again,
You can get Dr. Erin's "12 Week Journey' for the introductory offer of just $597
AND You can get all the supplemental programs for 1 full year for an additional $397
The whole package of Dr. Erin's programs in an easy to use app for just $994.
Join the community of people on the same journey as you: Ask questions, share your progress and help others out.
Create your goal and track your progress: Check in to the app daily, weekly or monthly and update your progress towards your goals.
Work with Dr.Erin to unlock keys to a healthy lifestyle that will transform you inside and out.
Dr. Erin. has written a book, 'Healing Through the Storm"
Dr. Erin Denil has devoted her life to helping others improve their health and vitality while facing the storms of life that interfere with health and well-being .
It was an accumulation of life and educational experiences that led to Dr. Denil's deeper understanding of what people are seeking when it comes to their health.
Dr. Denil's resilient desire to continue learning and improving her skills has led her to share her simple but powerful steps to living a vibrant life! In this powerful three-part resource, you'll learn:
How to intentionally create a new level of vibrancy and energy by understanding the fundamentals of food, exercise, and mindfulness/prayer/relationship with God.
Why so many people are sick and suffering in a failing healthcare model, and how we snap out of it.
The truth about your health and what positively or negatively affects your health.